Meet YMTC's Board of Directors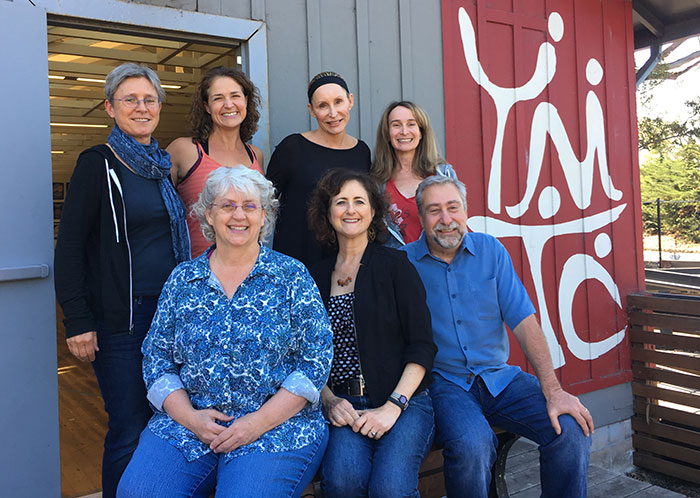 Alexa Wilkie (President) is Program Manager of the Environmental Health Tracking Program for the California Department of Public Health. She has worked for 25 years in management of health care programs with a focus on increasing access to care for marginalized communities. She worked for over a decade in management of blindness prevention programs at the Berkeley-based international non-profit Seva Foundation, with a focus on building eye care capacity in Tibet and western Nepal, and has substantial experience in non-profit fundraising, grants management, and strategic planning. Alexa has been a fan of YMTC since the first show she saw in 2010. Coming from a family rooted in theater, she is delighted that both her sons have had the chance to experience the amazing training that YMTC offers. Volunteering as Box Officer Manager gave her a really good excuse to see most performances of every show.
Sheryl Gorchow Stuart (Vice President) is a development consultant and former administrator of the Weston Havens Foundation with over 15 years experience in non-profit and development work. An experienced fundraiser, Sheryl was a member of Caltech's senior development team during the Institute's successful $1.4 billion campaign. She has worked at a range of institutions, including the Claremont colleges, the Academy of Natural Sciences and The University of Pennsylvania's Museum. Sheryl taught fundraising as an Instructor in UCLA's Professional Certification Program and served on numerous non-profit boards, including Chabot Space and Science Center and the Claremont Educational Foundation. She earned an M.J. in Journalism from University of Missouri-Columbia and studied choreography while an undergraduate at Haverford College. She has two children, one of whom performed with YMTC.

Wendy Ponder (Secretary) has been a YMTC parent since the 2012 season. Her family has volunteered and supported YMTC behind the scenes in many roles from leading as ushers and house managers to set building, loading and striking sets for many shows, and now is serving as a board member. Wendy is an educator in the Bay Area supporting students with diverse learning challenges and life circumstances. She has been a Spanish bilingual teacher, principal, and district administrator. Her current passion is working with students with special needs and their families.

Nancy Ostrow (Treasurer), the founder of Ostrow Design Services, is an interior designer and a project manager who designs and updates spaces of all sizes. She has worked from coast to coast, directing fine art and framing production in New York City to project managing national large-scale themed sporting events, such as the annual NBA and MLB All-Star events, and commercial and residential interiors in California. Her speciality is where logistics and aesthetics come together to create a beautiful end result, on budget and on time. For YMTC Nancy managed the design and implementation of the graphics on our new campus in Aquatic Park. She is also the parent of a YMTC alumni.

Bob Kliger holds a BS degree in Music from the Westchester Conservatory of Music and an MBA from the University of Illinois. He was the founder and president of Workgroup Management Inc., a computer consulting firm that specialized in Document Management Systems. Since selling the company, he has performed as a jazz pianist, composed musical shows and currently works part time as a strategic marketing consultant. He helped start Youth Music Records, a non-profit record company run by teens in Oakland and served as the board president for 4 years. He has a daughter and 2 step sons that have performed with YMTC.

Connie Amorde is a Physician Assistant dedicated to working in urban emergency rooms in the Bay Area, and committed to providing emergent and non-emergent care to the medically indigent. She received her training at the Stanford School of Medicine, and has worked in the field for over 20 years. Connie also has a long history of involvement in local fundraising for numerous nonprofit organizations. She has chaired large-scale events, including raising $96,000 in a single night for Multiple Sclerosis. For YMTC, Connie has set her sights on raising funds for YMTC's tuition assistance program, to enable YMTC to continue its generous support and outreach to students who would not otherwise be able to participate in productions.