Spring Awakening Cast & Crew
Welcome to the backstage page for YMTC's production of Spring Awakening.  This page is where you will find information regarding payment, rehearsal schedule, performances etc. Please be sure to check it frequently.
Rehearsals will take place at our Aquatic Park Campus at 2925-2945 Bolivar Drive, Berkeley until we move into the theater. If this is your first time at Aquatic Park, please consult the directions in the right column.
SUBMIT YOUR ACTOR BIO (due Jan. 27)
Order your SHOW SHIRT (due Feb. 3 by NOON)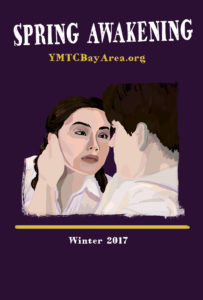 Registration
STEP 1: COMPLETE THE REGISTRATION FOR YOUR TRACK:
Apply for The Crane Scholarship
The mission of the Crane Scholarship is to ensure the growth of economic and racial diversity in YMTC's student body.  The scholarship is specifically for students who come from underserved or underrepresented communities, students who demonstrate financial need, and students who, through audition and application, show promising talent in the field, and outstanding discipline and commitment to the craft of theater. We will give special consideration to applicants who are new YMTC's programs.
STEP 2: PAY YOUR TUITION DEPOSIT or BALANCE
Click here to make a payment on your account towards this program. Note that you may have to select several different amounts to add up to the balance you owe.
STEP 3: READ OUR POLICIES AND SIGN THE WAIVER
YMTC Policies – Please read before signing the waiver!!
Waivers – Print, sign, and mail to YMTC, PO Box 9207 Berkeley, 94709.
Order a Tribute Ad for Your Student (coming soon)
Rehearsal Schedule
This is the general outline of the schedule. This is an ensemble show and most everyone will be called every day with some exceptions so please keep all days available. We will honor any conflicts that you noted in your audition forms.
Rehearsals
YMTC Rehearsal Campus at Aquatic Park
2945 Bolivar Dr, Berkeley
Jan 4-Feb 10 :: Mon-Fri, 4:30p-8:30
Feb 13-17 :: Mon-Fri, 4:30p-9
Load-in & Dry Tech (crew only)
Malonga Casquelourd Center for the Arts
1428 Alice St, Oakland
Feb 15-17 :: 9a-5p
Feb 18 :: 10a-10p 
Cue-to-Cue (cast & crew)
Feb 19 :: 10a-8p (cast released at 6p)
Dress Rehearsals
Malonga Casquelourd Center for the Arts
1428 Alice St, Oakland
February 20-23 :: Mon-Thu, 4p-10 
NO CONFLICTS FOR THIS PERIOD OR FOR ANY OF THE PERFORMANCES WILL BE PERMITTED
Performances
Malonga Casquelourd Center for the Arts
1428 Alice St, Oakland
(call time is 2.5 hours before show time)
Friday, 2/24 at 7:30 pm (opening)
Saturday 2/25 at 7:30 pm
Sunday 2/26 at 2:00 pm
Friday 3/3 at 7:30 pm
Saturday 3/4 at 7:30 pm
Sunday 3/5 at 2:00 pm (closing) *STRIKE immediately following, 4:30p-10
EVERYONE IS REQUIRED TO BE AT STRIKE
REHEARSAL CALLS will be posted here, two weeks out, and updated weekly. Click the daily call for additional details: