Our 2017-2018 Season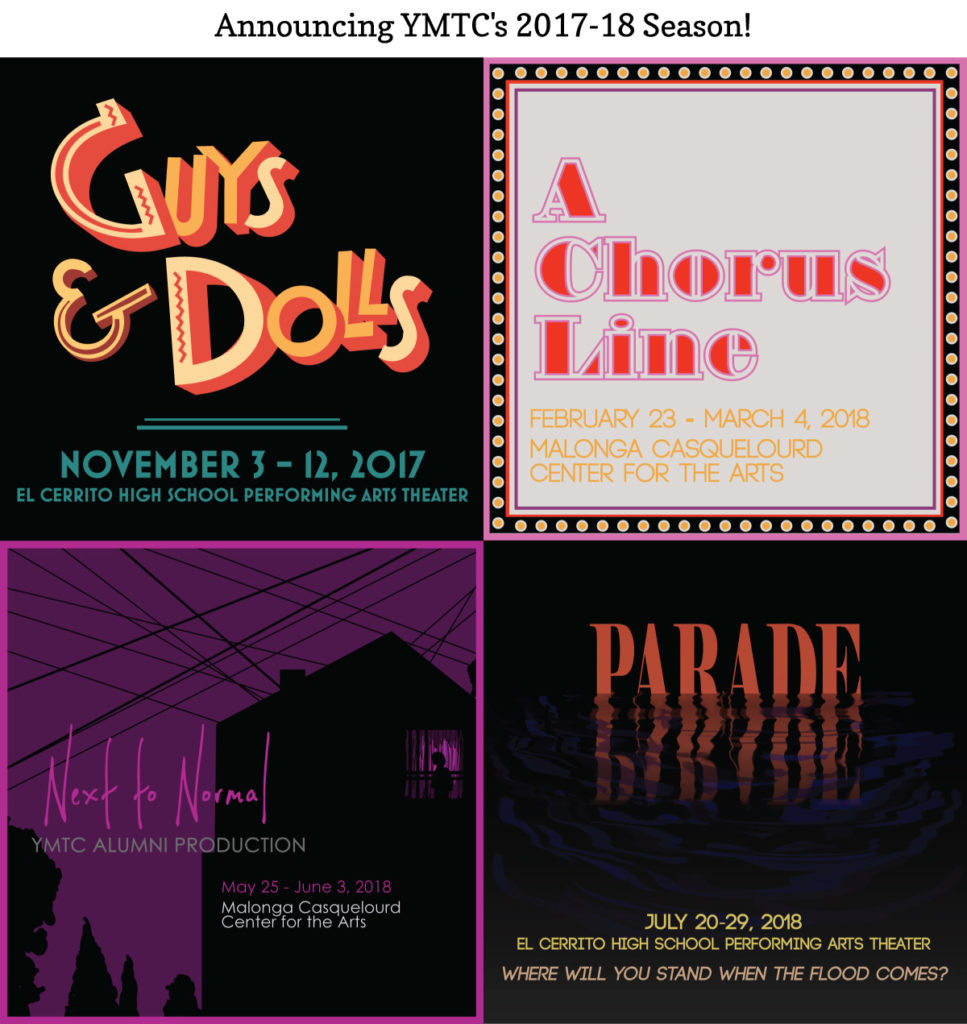 WE ARE THRILLED TO ANNOUNCE OUR 13TH SEASON, including four distinct musicals presented in two different venues! As always, a live, full orchestra will accompany each production. And, we are excited this season to inaugurate our Alumni Production where young professional artists who trained with us as teens will return to perform alongside teaching artists, and mentor current students, in an added production this spring.
Now, more than ever, YMTC stands committed to our mission of training the next generation of engaged artists and arts appreciators through producing exceptional musical theater. We look forward to seeing you in the year ahead!
Jennifer Boesing, Producing Artistic Director
---
Guys & Dolls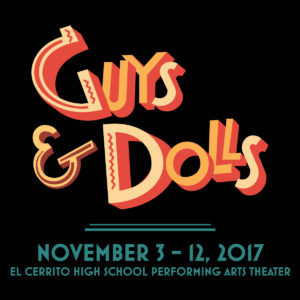 Frank Loesser's celebrated musical comedy about rolling the dice and falling in love under the bright lights of Broadway is set in Damon Runyon's mythical New York City. Gambler Nathan Detroit tries to find the cash to set up the biggest craps game in town while the authorities breathe down his neck; meanwhile, his girlfriend and nightclub performer Adelaide laments that they've been engaged for fourteen years. Nathan turns to fellow gambler Sky Masterson for the dough, and Sky ends up chasing the straight-laced missionary Sarah Brown as a result. Guys and Dolls takes us from the heart of Times Square to the cafes of Havana, Cuba, and even into the sewers of New York City, but eventually everyone ends up right where they belong. Frank Loesser's bold, brassy, and memorable songs brilliantly support the story.
November 3 – 12, 2017
El Cerrito High School Performing Arts Theater
A Chorus Line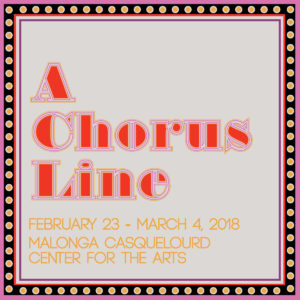 Set on the bare stage of a Broadway theater, A Chorus Line is a Tony award- and Pulitzer prize-winning musical (1976) centered on seventeen Broadway dancers auditioning for spots on a chorus line during an audition for a new Broadway musical. A Chorus Line provides a glimpse into the personalities of the performers and the choreographer as they describe the events that have shaped their lives and their decisions to become dancers. Music, dance, drama, competition, and a celebration of the American Musical combine for a moving theater experience.
Music by Marvin Hamlisch, lyrics by Edward Kleban and a book by James Kirkwood, Jr. and Nicholas Dante.
February 23 – March 4, 2018
Malonga Casquelourd Center for the Arts, Oakland
Next to Normal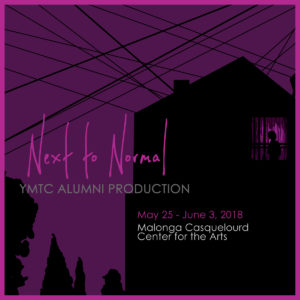 Dad's an architect; Mom rushes to pack lunches and pour cereal; their daughter and son are bright, wise-cracking teens, appearing to be a typical American family. And yet their lives are anything but normal because Mom has been battling manic depression for 16 years. Next to Normal takes audiences into the minds and hearts of each character, presenting their family's story with love, sympathy and soul.
Next to Normal, with book and lyrics by Brian Yorkey and music by Tom Kitt, explores how one suburban household copes with crisis and mental illness, and was the winner of three 2009 Tony Awards, including Best Musical Score and the 2010 Pulitzer Prize.
Next to Normal, the inaugural YMTC Alumni Production, will feature a cast of YMTC professional alumni and teaching artists, and will be directed by award-winning Bay Area director Susannah Martin.
May 25 – June 3, 2018
Malonga Casquelourd Center for the Arts, Oakland
Parade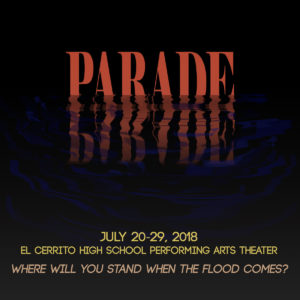 Amid religious intolerance, political injustice and racial tension, the stirring Tony Award-winning Parade explores the endurance of love and hope against all the odds. With a book by acclaimed playwright Alfred Uhry (Driving Miss Daisy) and a rousing, colorful and haunting score by Jason Robert Brown (Songs For a New World, The Last Five Years, Bridges of Madison County), Parade is a moving examination of the darkest corners of America's history.
In 1913, Leo Frank, a Brooklyn-raised Jew living in Georgia, is put on trial for the murder of thirteen-year-old Mary Phagan, a factory worker under his employ. Already guilty in the eyes of everyone around him, a sensationalist publisher and a janitor's false testimony seal Leo's fate. His only defenders are a governor with a conscience and, eventually, his assimilated Southern wife who finds the strength and love to become his greatest champion. Daring, innovative and bold, Parade is filled with soaring music and a heart-wrenching story, offering a moral lesson about the dangers of prejudice and ignorance that will not be forgotten.
July 20 – July 29, 2018
El Cerrito High School Performing Arts Theater